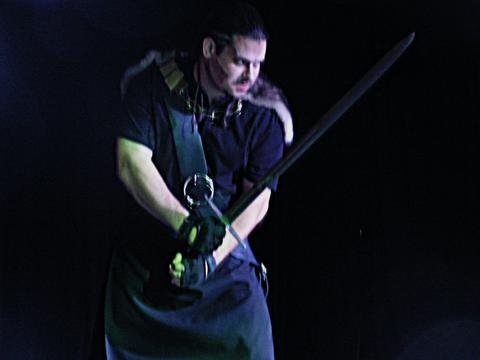 Jason Tipsword (He/Him/His)
Certified Teacher
A jack of many trades, Jason Tipsword currently teaches in the Theatre Arts department at the University of Iowa. He also works extensively in youth theatre including serving as Program Director for Driftless Youth Theatre and serving several residencies with George Daily Youth Theatre. Recently, Jason has begun using narrative gaming to generate original material for performance. 
In his other work, Jason teaches at an alternative day school, works in a county substance abuse treatment court, coaches high school soccer, and worked for seven years in security and law enforcement. 
He lives in Northeast Iowa where he and his wife Nika live on a small acreage along Highway 52 with many animals. Mostly goats.
---
Skill Proficiency History
| Date | Weapon | Location | Grade |
| --- | --- | --- | --- |
MACE - Movement and Combat Education
| | | | |
| --- | --- | --- | --- |
| Jan 6, 2012 | Unarmed | Saint Charles, Illinois | Recommended Pass |
| | | | |
| --- | --- | --- | --- |
| Nov 20, 2011 | Small Sword | Des Moines, Iowa | Recommended Pass |
| Nov 20, 2011 | Broadsword and Shield | Des Moines, Iowa | Recommended Pass |
Carson School of Theater and Film, University of Nebraska-Lincoln
| | | | |
| --- | --- | --- | --- |
| Apr 11, 2010 | Knife | Lincoln, Nebraska | Basic Pass |
| | | | |
| --- | --- | --- | --- |
| Nov 21, 2009 | Quarterstaff | Des Moines, Iowa | Recommended Pass |
Mid America Regional Renewal Workshop
| | | | |
| --- | --- | --- | --- |
| Apr 26, 2009 | Broadsword | Lincoln, Nebraska | Basic Pass |
| Apr 26, 2009 | Rapier and Dagger | Lincoln, Nebraska | Basic Pass |
| Apr 26, 2009 | Small Sword | Lincoln, Nebraska | Basic Pass |
| Apr 26, 2009 | Broadsword and Shield | Lincoln, Nebraska | Basic Pass |
| | | | |
| --- | --- | --- | --- |
| Nov 21, 2008 | Unarmed | Des Moines, Iowa | Basic Pass |