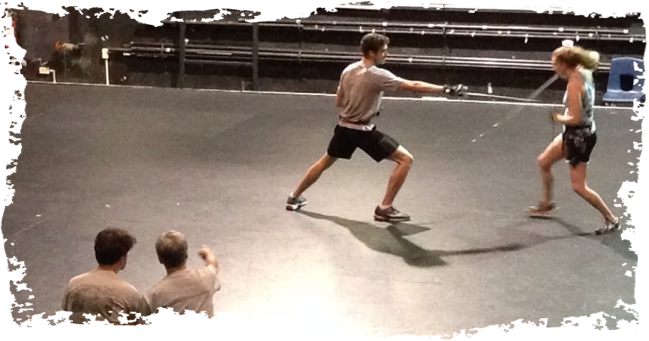 TRAINING with the SAFD
SPT Rules | Required Techniques | SPT training opportunities | Q & A | Do's & Don'ts
Whether an aspiring actor or a seasoned veteran of stage and screen, you can take advantage of our superior training courses and programs utilizing a variety of weapons and unarmed stage combat techniques, all taught by our own Certified Stage Combat Instructors. Only these qualified members may teach a Stage Combat Skills Proficiency class and only an SAFD Fight Master may adjudicate the test. Our classes focus on specific stage combat disciplines with compulsory techniques. We test these required stage combat techniques for safety, theatrical commitment and believability within a dramatic context.
During the COVID-19 crisis, and in places where training in-person can be difficult, The College of Fight Masters has created some guidelines for training outside of the usual methods for the SAFD listed at this link: https://safd.org/train/covid-guidelines/
Our official rules governing the Stage Combat Skills Proficiency Test, including information about who may teach the Stage Combat Skills Proficiency Test, and more.
We currently train and test in eight stage combat weapon disciplines:
Rapier and Dagger
Single Sword (sabre, single rapier, Hollywood swashbuckling)
Broadsword
Broadsword and Shield
Smallsword
Knife
Quarterstaff
Unarmed.
The premier stage combat training workshop is the SAFD's annual NATIONAL STAGE COMBAT WORKSHOPS.  In addition to the National Workshop, the SAFD sanctions a number of outstanding REGIONAL WORKSHOPS across the country.  
Finally, there are many Colleges and Universities, as well as Private Institutions and Theatres also offer stage combat training that leads to a stage combat skills proficiency testing.