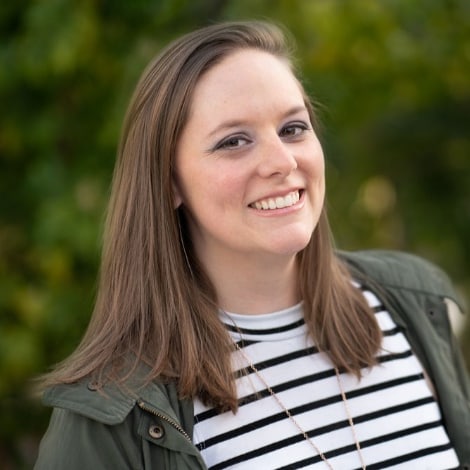 Courtney Kenyon (She/Her/Hers)
Advanced Actor Combatant
Courtney is recognized as an Advanced Actor Combatant by the Society of American Fight Directors, certified in all 8 weapons disciplines, and as proficient in Theatrical Firearms Safety.
Born and raised in Phoenix, AZ, Courtney has trained and competed in both gymnastics and dance since she was a kid and has trained in stage combat with Andrea Robertson since 2015.
Courtney has worked professionally in Arizona and California as a stage manager, actress, and combat specialist. She has choreographed and assisted in several productions in the Phoenix metro area with credits including Mesa Encore Theatre, Flagstaff Shakespeare, Phoenix College, Paradise Valley Community College, and various high schools.
She received her Bachelor of Arts degree in Interdisciplinary Arts and Performance with a minor in Film Production from Arizona State University and her Masters in Management in International Arts Management from Southern Methodist University and HEC Montreal. She has also recently completed credits to receive an Associates in Arts, Fine Arts with a focus in Theatre and a Certificate of Completion in Stage Combat through Paradise Valley Community College where she teaches stage management and is a Teaching Assistant to Andrea Robertson in her stage combat class.
---
Skill Proficiency History
| Date | Weapon | Location | Grade |
| --- | --- | --- | --- |
| | | | |
| --- | --- | --- | --- |
| May 10, 2023 | Rapier and Dagger | Phoenix, Arizona | Recommended Pass |
| May 10, 2023 | Single Sword | Phoenix, Arizona | Recommended Pass |
| | | | |
| --- | --- | --- | --- |
| Dec 12, 2022 | Unarmed | Phoenix, Arizona | Recommended Pass |
| Dec 12, 2022 | Knife | Phoenix, Arizona | Recommended Pass |
Paradise Valley Spring 22
| | | | |
| --- | --- | --- | --- |
| May 9, 2022 | Small Sword | Phoenix, Arizona | Recommended Pass |
| May 9, 2022 | Broadsword and Shield | Phoenix, Arizona | Recommended Pass |
| | | | |
| --- | --- | --- | --- |
| Dec 9, 2019 | Broadsword | Phoenix, Arizona | Basic Pass |
| | | | |
| --- | --- | --- | --- |
| Nov 4, 2018 | Single Sword | Dallas, Texas | Recommended Pass |
| Nov 4, 2018 | Knife | Dallas, Texas | Recommended Pass |
| | | | |
| --- | --- | --- | --- |
| Sep 9, 2018 | Firearm | Jonesboro, Arkansas | Recommended Pass |
| | | | |
| --- | --- | --- | --- |
| May 8, 2018 | Rapier and Dagger | Phoenix, Arizona | Basic Pass |
| May 8, 2018 | Small Sword | Phoenix, Arizona | Basic Pass |
| May 8, 2018 | Broadsword and Shield | Phoenix, Arizona | Basic Pass |
| May 8, 2018 | Unarmed | Phoenix, Arizona | Basic Pass |
| | | | |
| --- | --- | --- | --- |
| May 8, 2017 | Broadsword and Shield | Phoenix, Arizona | Basic Pass |
| May 8, 2017 | Quarterstaff | Phoenix, Arizona | Basic Pass |
| | | | |
| --- | --- | --- | --- |
| May 9, 2016 | Single Sword | Phoenix, Arizona | Basic Pass |
| May 9, 2016 | Broadsword | Phoenix, Arizona | Basic Pass |
Paradise Valley Community College
| | | | |
| --- | --- | --- | --- |
| Dec 14, 2015 | Unarmed | Phoenix, Arizona | Basic Pass |
| Dec 14, 2015 | Knife | Phoenix, Arizona | Recommended Pass |
| May 11, 2015 | Rapier and Dagger | Phoenix, Arizona | Basic Pass |
| May 11, 2015 | Quarterstaff | Phoenix, Arizona | Basic Pass |