The SAFD stands in solidarity with those suffering from injustice and systemic racism.
The Society of American Fight Directors Commitment to Anti-racism
The Society of American Fight Directors recognizes that we have been slow in producing an official, in-depth statement regarding our commitment to being an anti-racist organization and we apologize for the delay. We believe that change is necessary and important, and that an issue of this magnitude required immediate internal evaluation and actions. With our attention on those actions, it has taken us time to put together a statement about our commitment, the work we have been doing to live up to it, and the work we still have to do.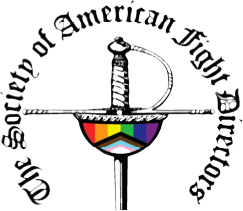 In addition to affirming a commitment to being an anti-racist organization, we would also like to make clear that we are an anti-violence organization. We define being an anti-racist and anti-violence organization as prioritizing diversity, equity, and inclusion in our organizational structure by directly supporting, both socially and economically, all individuals who seek to train and build a career through fight choreography and staged combat regardless of age, identity, race, gender, economic status, geographic location, or physical ability. We believe these categories and identities are inexorably linked to non-violent means of expression.
We want to completely dispel any illusions about our intentions as an organization of stage combat by making the following perfectly clear - the artists of the SAFD perform and choreograph fights for the purposes of entertainment in the performing arts so that students and professionals may find means of artistic expression through physically creative storytelling. We acknowledge that Black people, Indigenous people, and People of Color (BIPOC) identities and communities; Lesbian, Gay, Bisexual, Transgender, Queer, Intersex, Asexual, 2 Spirit (LGBTQIA2+) people; and women experience violence in their lived realities that are often portrayed in the stories we choreograph. It is imperative to us as an organization that people with these identities feel respected, encouraged, and professionally supported, as we aim to prevent any form of violence (social, verbal, emotional, or cultural) towards these groups from occuring within the SAFD.
We are in full support of any personal, artistic, and educational endeavor towards improvement, equity, and inclusivity. We categorically oppose any individual or organization who seeks to limit the freedoms of artistry, education, and improvement of any individual or group through physical, emotional, psychological, social, or economic violence.
The events of 2020 have made us focus on the immediate cultural, professional, and financial support of our membershIp. Through these events and the efforts we have taken to respond to them, it has become wholly apparent that we have engaged in a history of inequitable treatment of individuals within and outside of our ranks. The systems we have had in place regarding access to training, membership, and promotion within our organization have been modeled on and are operating in tandem with the American Theatre and the American Educational system. These systems and the organizational structure of the SAFD have been inherently exclusionary on a basic racial, social, and economic level, particularly with regard to people of BIPOC identities, women, gender variant people, non-men, and people with disabilities.
It has taken us a long time to take a hard look at what we do, who we do it with, and how we do it. We are deeply sorry for our inability before now to recognize these inequities in our organization, both in policy and in practice. We are grateful to our membership and our colleagues in the professional academic and artistic communities who have repeatedly brought this to our attention. It is through their willingness to help the SAFD become a more socially aware, economically equitable, and inclusive organization that we are able to acknowledge our sustained historical faults. Because of their continued efforts, we are making a commitment to establish a new system whereby we can provide professional support and artistic growth for anyone and everyone who wants to learn more about the art of fight choreography.
Below are actions and initiatives that the SAFD has implemented in 2020 and plan to impliment in 2021 and in the future, in an effort to further transform itself into an anti-racist and anti-violence organization. These initiatives have been made possible by our Governing Body, the College of Fight Masters, the membership at large, as well as feedback from our international sister organizations. We look forward to increased communication and dialogue with our colleagues to evaluate and re-evaluate these initiatives so that we may continually improve our approach to being an anti-racist and anti-violence organization.
Initiatives

2020
Established a program which provides free tuition to each sanctioned SAFD workshop for one student who demonstrates financial need.
Established the Professional Series, an online class led by industry professionals once per month at no cost to members.
Fight Masters now donate 10% of all adjudication fees to a dedicated BIPOC scholarship.
$200 relief payments distributed to CT, FD, and FM members who experienced financial hardship due to COVID.
Established a new level of free membership for anyone interested in the SAFD.
Established one free year of full membership to any student taking the Skills Proficiency Test for the first time.
Created an online testing curriculum to reach more geographical locations.
Changed sanctioning rules to include online regional workshops to facilitate training during social distancing.
Re-established the Diversity, Equity, and Inclusion committee (DEIC) to consult on organizational decisions as they relate to those issues.
Diversity@safd.org email has been set up exclusively to receive inquiries about these issues and feedback on initiatives.
Re-established the Pedagogy Committee.
The College of Fight Masters revised most of the eight weapon disciplines to include a broader range of weapons from other cultures.
Revised and augmented the Code of Ethics of the SAFD.
Added a new position to the Governing Body, the Diversity Representative, to help coordinate diversity initiatives and augment policy with inclusive practices.
2021
Investigate and establish ways to incorporate anti-racism training for Certified Teachers, Fight Directors, and Fight Masters.
Pursue ideas for a contest sponsored by the SAFD for emerging playwrights to create work focused on fight choreography.
Pursue ideas about new criteria for and inclusion of Non-Eurocentric weapons.
Establish a teaching pilot program to bring in-person stage combat training to underserved communities and locations.
Applications for members wishing to participate in this initiative are forthcoming.
Pursue more grant writing opportunities to apply for funds specifically for scholarships for members to train at SAFD workshops.
Establish a transparent reporting structure for grievances against members for full organizational accountability and transparency.
Beyond:
Further reduce or eliminate economic barriers to training for individuals.
Foster a significant shift in culture to be anti-racist, anti-violence, anti-sexist, identity conscious, and inclusive.
Examine and reform paths to certification for Certified Teacher and Fight Director candidates to actively foster artists from historically underserved demographics.
Cultivate a relationship with the stunt community and profession.
Actively seek opportunities to engage in more collaboration and communication with international organizations of stage combat and movement arts.
Statement from the College of Fight Masters
The College of Fight Masters of The Society of American Fight Directors recognizes that we are a predominately white organization and operate within a culture of systemic racism and oppression. We also acknowledge that silence and neutrality are actions of complicity.
We, the SAFD College of Fight Masters (CFM), recognize the critical role of the arts in our culture and national conversation, and we accept our responsibility to make positive change through our work, our practices, and our policies. We commit ourselves to the work of making the SAFD an organization in which racism and oppression are unacceptable, and will work with urgency to end racial and gender inequities in our industry and our culture.
The CFM understands that we hold a significant responsibility in shaping the culture of this organization. In tandem with the Governing Body, we commit ourselves to working for racial and gender inclusivity and diversity and we pledge to support the rights and dignity of the LGBTQ community. 
The CFM pledges to seek out and mentor SAFD members of diverse identities to enable these members to participate fully in all ranks of the SAFD, including the College of Fight Masters. As a first step, we have pledged a portion of our adjudication fees to fund a scholarship for BIPOC students.
The CFM will actively seek out collaborators of non-Western/Anglo/Eurocentric fight styles as we broaden the perception of stage combat. We plan to create a clear adjudication rubric to combat implicit bias and favoritism in adjudication and promotion. 
We know we have a long way to go. We know that we may stumble. At times we may fail, but we are committed to examining what we have done in the past and what we can do in the future to better serve our community and to be inclusive, anti-racist, and anti-discriminatory in those efforts.  We are humbled by all who have come forward to share their experiences and we regret the harm they have endured. Thank you for your labor and for your demand for us to do better. We aim to heed your call. 
Resources for education, action, and donation
A message from the President of the Society, June 2020
Dear SAFD Members,
The unrelenting and horrific plague of racism continues to take lives in our nation's communities, and far too many citizens do not and cannot feel safe.
I am repulsed by the loathsome actions that have caused the recent deaths of George Floyd, Ahmaud Arbery, Breonna Taylor, and so many other members of the black community.
The effects of pervasive and systemic racism must be addressed.
A commitment must be made to advance justice, equity, inclusion, and understanding to not only all members of our society, but especially to the African American community that has been devalued for well over 400 years in this country.
Action must be taken.
We are looking for representation from all levels of membership to join the Diversity, Equity, and Inclusion Committee. If you are interested in serving, please let me know.
As the SAFD continues to try and improve, if you have a suggestion or a proposal please email me directly; we are here and we are listening.
Sending positive energy your way,
~Christina 

president@safd.org