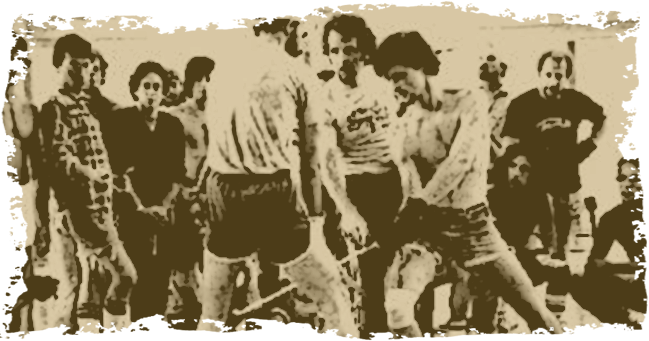 HISTORY of the SAFD
For over 30 years, the Society of American Fight Directors has celebrated extraordinary growth.  So, from those who were around when it got started, to those who are carrying the torch into the future, here's a short history of how we got here from there.
In the beginning. . .
In the mid-70s when David Boushey returned from studying stage combat in England, he approached the Seattle Repertory Theatre and offered his services as a fight director. "What's a fight director?" asked the artistic director. "I knew I had my work cut out," recalls the SAFD founder. "As a member of the Society of British Fight Directors (the first American to be inducted into the SBFD) I knew how their organization was structured. And I knew how valuable an asset to the fight community their society was. It was obvious to me that a professional organization would need to be in place if Americans were going to get the respect the British had earned in England." David contacted several other individuals around the U.S. that he knew to be involved in stage fighting; among them, Erik Fredricksen, Joseph Martinez, Byron Jennings and Rod Colbin, and the Society of American Fight Directors was born.




David Boushey                    Erik Frederickson                     Joseph Martinez                      Rod Colbin
On May 16, 1977, the SAFD was incorporated. SAFD membership sprawled across the U.S. right from the beginning. The first officers were President David Boushey in Seattle; Vice President Byron Jennings in San Francisco; and Secretary/Treasurer Erik Fredricksen in New York City.                              
The SAFD was, at its inception, just what the name implies: an organization for fight directors. Its stated purpose was "to bring together into one organization those individuals who earn a living choreographing fight scenes for stage and film" (Articles of Incorporation).                              
But by April of 1978 the SAFD had three classifications of membership, boasting six "full" members (defined as "professional fight directors"), 23 affiliate members ("fencing masters in drama schools"), and three student members ("students who aspire to become fight directors"). In July of 1978 a fourth classification, "friend," was added. Dues in those days were $15 for full and affiliate members and $10 for students and friends.
Getting the word out. . .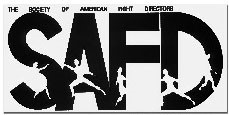 Advertisement brochure for the 1981 NSCW
"It was a matter of public relations and focusing attention on a central organization which could bring all known fight arrangers into a common group with a common philosophy - that of safe and well-conceived fight choreography," recalls David Boushey. He began work on an organizational magazine, The Fight Master. For his model, David again looked to the SBFD and their journal, The Fight Director, edited by Henry Marshall.                              
The first Fight Master appeared in April 1978, and thereafter was published four times a year. Word also spread through meetings and conventions of organizations such as the American Theatre Association. The SAFD began to grow.
Skills Testing . . .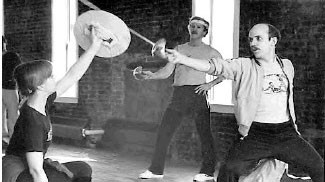 1979- J. Allen Suddeth teaches students for the first NSCW
In an open letter to the membership printed in the October 1978 Fight Master, Boushey proposed adopting another SBFD practice - that of testing students as actor/combatants. At that same time, in New York, J. Allen Suddeth was busy rehearsing for his own SBFD certification test and wondering why there wasn't an American test.
"The British society had been testing students in England for many years and had begun testing in America at places like Carnegie-Mellon and Julliard, " recalls Allen. "After taking my test, I discovered that the newly-formed SAFD was not testing in our own country."
1979- J. Allen Sudeth teaches students for the first SAFD approved "Fight Test", now called the Skills Proficiency Test. Allen contacted David Boushey and the result was the first-ever test of American students under the auspices of the SAFD. Twelve of Allen's students tested in New York on July 14, 1979. Erik Fredricksen adjudicated and all twelve passed with two students recommending. Since then, more than 3000 students have tested.
The first national meeting of the SAFD took place in New York City on August 15, 1979. Twenty members attended. One of the lasting decisions that came out of the meeting was adding "actor/ combatant" as a membership classification.
On April 20, 1980, the Society of British Fight Directors made it official, "We fully recognize the authority of the SAFD to conduct tests in their own country. We rule that certificates issued by the SBFD should only be issued for tests conducted in the United Kingdom."
A National Workshop . . .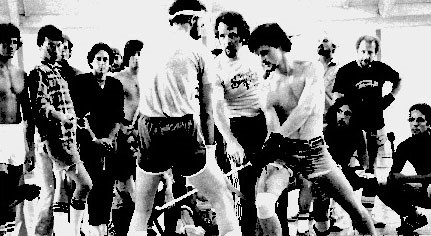 David Boushey teaching Chuck Coyl and Jim Robinson at the first National Stage Combat Workshop

On July 14, 1980, the idea of a national fight school became a reality in the guise of the first National Stage Combat Workshop held at Western Illinois University. Coordinated and hosted by Joseph Martinez, there were twenty-nine students and three instructors, Joseph Martinez, Erik Fredricksen and David Boushey.
Also in July, Byron Jennings resigned as vice president and as a full member in order to pursue his acting career full-time. David Boushey announced that he was stepping down as president; "I feel that a shift of power and locale must take place within the society to keep it a truly national organization, representing all its members." On August 13, Erik Fredricksen became president and Rod Colbin vice president. David Boushey became secretary/treasurer.
Years of change . . .                
Within Erik's term as president, the SAFD began to concentrate on actor/combatant training and certification in colleges and universities across the country as well as at the annual NSCW. Erik also began formulating more stringent application procedures for prospective affiliate members. In 1983, the SAFD responded to concerns voiced by actor/combatant members who felt that their designation didn't imply membership as much as success at certification. Membership categories were changed in January 1983 to:
                       
Full members
                                            
Associate members (formerly affiliate members)
                                            
Affiliate members (formerly actor/combatants)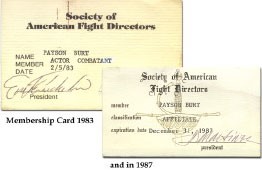 First membership cards
The SAFD now had 102 members: ten full members, 40 associate members, 41 affiliate members, six students, four friends, and one honorary member. Also in 1983, Joseph Martinez became the editor of The Fight Master and moved the magazine from typewriter to typesetting. However, due to increased production costs and scarcity of submissions, The Fight Master cut back to three issues a year. Also at this time, David Leong took over the office of secretary.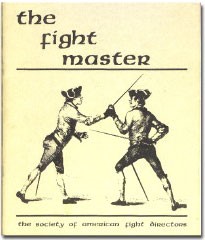 1982 Cover
Linda McCollum took over as the new editor of The Fight Master editor with the May 1984 issue. The designation "full member" (not very dashing) was changed to "fight master" in September 1984. actor/combatant skills tests had become so numerous that, for the first time, adjudicators were paid a fee.  Also in 1984, specific procedures were set up for upgrading member status to the associate and fight master levels.                              
In September 1985, new SAFD officers were elected, but before leaving office Erik Fredricksen made a stern plea, "It has been in the Fight Masters that I have seen the greatest disparity in interest, willingness, and focus. Perhaps that is to some degree inevitable. Fight masters are, after all, practicing professionals and it may only be natural that their personal and professional goals will dictate the quality of their contribution. I must state that fight masters who, for whatever reason, feel they no longer see value in the active advancement of the Society should officially withdraw."
Restructuring the SAFD . . .           
On January 1, 1986, Joseph D. Martinez took office as president and Drew Fracher became the new vice-president of the SAFD. More changes came in 1987, with a major restructuring of membership classifications. Affiliates were once more designated as actor/combatants and were required to renew their status periodically. Certified teachers became the next rung in the ladder. For the first time, a standard of knowledge and teaching ability was formulated and a testing procedure devised. Like actor/combatants, teachers must renew their status every three years. Joseph Martinez created the first teacher training workshop and teacher certification test at the 1987 NSCW. Associate members could grandfather in as certified teachers, provided they took the teacher certification test. The student classification was dropped, but the general category "friend" remained. (The SAFD now has a simple, self-explanatory hierarchy.Membership is open to anyone with an interest in stage combat, and three status levels exist: actor/combatant, certified teacher and fight director. Fight Master has become an honorary classification.)
In 1987, the SAFD celebrated their tenth anniversary. The circular cup hilt design was officially adopted as the SAFD logo. David Boushey stepped down as treasurer in January 1987, and actor/combatant James Finney was appointed to replace him.
After two-and-a-half years and three petitions for non-profit status, David Boushey and Erik Fredricksen flew to Los Angeles and, with the aid of an attorney, pleaded the SAFD's case. Through their selfless actions, the SAFD was finally awarded Federal non-profit tax-exempt status.
April 1989 saw Richard Raether inducted as secretary/treasurer.
FIGHT MASTER COVERS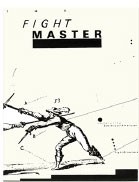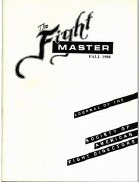 Fight Master Magazine Cover 1984                        Fight Master Magazine Cover 1988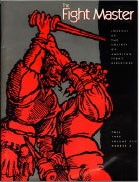 Fight Master Magazine Cover 1990
Onward and upward . . .                   
J. Allen Suddeth took office as SAFD president in January 1990, which was duly reported in the first issue of the SAFD newsletter, the Cutting Edge, edited by Margaret Raether. Drew Fracher began another term as SAFD vice president and Richard Raether remained secretary/treasurer.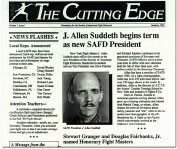 First Edition of the Cutting Edge
Also in January 1990, film legends Douglas Fairbanks, Jr. and Stuart Granger were inducted as honorary SAFD members. In July 1990 the first SAFD Advanced Actor Combatant Workshop took place.
The AACW was designed and taught by J. Allen Suddeth and Erik Fredricksen, and focused on advanced techniques. "The SAFD is moving ahead," reported new president Suddeth in the Fall '90 issue of The Fight Master, the first under neweditor Margaret Raether. The Fight Master moved to twice-yearly schedule, with the Cutting Edge published six times per year. 1990 also saw the first attempts to represent the SAFD on a local level. Eight representatives were selected to help distribute information to the membership.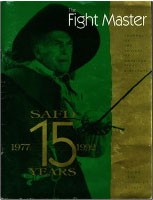 15th Anniversary issue of The Fight Master Spring 1992
1992 was a busy year for the SAFD, which celebrated its 15th anniversary and also held elections for officers. In January of 1993, Drew Fracher took office in the top spot with Susan Eviston as vice president, the SAFD's first certified teacher (and first female) officer. Richard Raether continued in the offices of secretary and treasurer.
Giving Members a Voice. . .                   
Another innovation in 1993 was member representatives. Geoffrey Alm was selected by his peers to represent the certified teachers and Ricki G. Ravitts was elected to represent the general membership. Both were new voices in the annualofficer's meetings held prior to the summer workshop.
In late 1993, the SAFD made strides with Actor's Equity Association on many issues, including the wording of contracts regarding fight directors, fight captains, and fight calls.
1994 began with a message from Drew Fracher in The Fight Master reminding all members, "Our standards of quality and our personal skills must never be compromised, just like our standards of safety."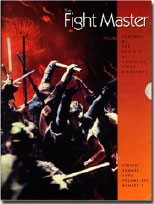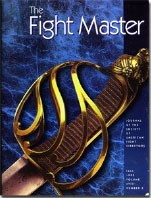 FM 1994                                                         FM 1995
In 1994 there were some management changes. Ralph Anderson, a certified teacher based in New York City, took over as editor of The Cutting Edge. Richard Raether resigned as secretary and treasurer after five years. He was replaced by Mark Guinn as treasurer and Mark Olsen as secretary. Also this year, David Woolley was voted in to the College of Fight Masters.
Shakespeare's Globe Theater, gone from the banks of the Thames for 350 years was rebuilt in recent years and reopened in the summer of 1995. The SAFD was well represented at this historic event when Joseph Martinez, Ricki G. Ravitts, Lewis Shaw, Brad Waller, and Tim Klotz performed a program of lecture/demonstration, and performance on the swords of Shakespeare.
1995 saw the first International Stage Combat Workshop take place in London, with members of the Society of British Fight Directors, Fight Directors Canada and the SAFD participating in two weeks of intensive workshops that offered participants the historic opportunity to certify in all three organizations.                         
                       
Fall, 1995 was election time again. Reelected SAFD President Drew Fracher took office in January 1996, along with Vice-president Colleen Kelly. Mark Olsen resigned as secretary and Paul Dennhardt was appointed as his replacement.  Also in 1996, The Cutting Edge changed hands again, with David Doersch taking over as the new editor.
Summer, 1996 saw the first time senior members would get together specifically to train, discuss SAFD policy and learn from one another. The fight directors workshop and conference convened 4 days before the NSCW in concurrence with the officer meetings. The event was 2 fold; 1. classes were held each day taught by a CT, FD or FM to CTs, FDs and FMs. 2. Officers, committees and other meetings vital to the smooth operation and growth of the SAFD were held allowing individuals, who during the year could only communicate from a distance, to discuss things face to face. The FDWC has since become a regular and anticipated event.
Our 20th Anniversary . . .
1997 marked the 20th anniversary of the Society of American Fight Directors. With a membership hovering just above 400, the SAFD entered into its third generation healthy and vigorous.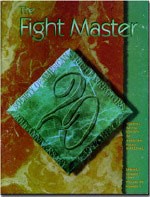 20th-anniversary issue of The Fight Master Spring/Summer 1997
Linda McCollum took over as editor of The Fight Master, the journal of the SAFD after over ten years of work by her talented predecessor, Margaret Raether. Jeff A.R. Jones took over as layout artist and graphic designer.                        
The SAFD also entered the Internet age with our first website. Though modest, it represented a new way to connect people to our group.                                
A new membership category was added. President Drew Fracher oversaw the creation of a new block of voting members. Member representatives were elected for the first time. They became the voice of the membership, representing them at annual meetings in Las Vegas, and lobbying for change within our new corporate structure. There are now membership representatives for the following categories: Fight Master, Fight Director, Certified Teacher, and Actor Combatant/friend.  They are elected by the membership at large, and serve for two years.                               
The year can be summed up in President Fracher's statement, "We should all be proud of the reputation that we have acquired."                              
There were many changes in 1998, including the election of a new governing body. The SAFD's newest Fight Master Dale Girard took the reins from departing President Drew Fracher, and promised to take the SAFD into the new millennium. Rounding out the officers were; Paul Dennhardt as VP, Michael Anderson as secretary, and Julia Rupkalvis as treasurer. Paid membership hit an all time high of 700 members.
Fighting For Life . . .

Fighting for life
Also in 1998, the SAFD also became active in soliciting money for Broadway Cares - Equity Fights Aids and has raised over $10,000 so far. We were also present in New York for talks with Actor's Equity concerning actor safety in the workplace.                                
There was also the addition of a new category of advanced student, named the Advanced Actor Combatant. These individuals were honored with special certificates when they were able to pass six of the eight weapons styles while keeping them all current! The administration also saw fit to add two new weapon styles to the list that had stood for many years, knife and single sword.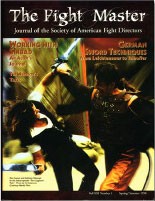 Spring/Summer 1998
                    
There were also internal changes within the SAFD. The new Executive Committee met in Las Vegas, and hammered through a long agenda of finances, and policies and procedures. As President Dale Girard stated at the time,                                    
                       

"Much of what they accomplished will not be readily visible to the membership. In time, however, everyone will notice a greater efficiency of operation, better communication with the overall membership, and a higher profile in the professional and academic communities."

                                                           
Online Presence . . .                   
1999 saw the website grow even further, designed by Al Foote III. Expanding the site many fold, and adding interactive elements, the site got 10,000 hits within months.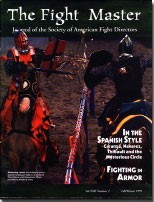 Fall/Winter 1999
The SAFD also continued to negotiate with Actor's Equity, and also the SSD&C about actor safety, contracts, and the future of stage combat. We also continued to raise money for the Equity Fights Aids fund through donations, and percentages of profits from workshops across the nation. A favorite tradition has emerged at the NSCW, and other workshops: "The Dagger for Life" raffle; a donated dagger is raffled off with the proceeds going to Broadway Cares- Equity Fights Aids.
This year also marked the twentieth anniversary of the National Stage Combat Workshop, and Founder David Boushey announced the addition of a film fighting class this year in the Advanced Actor Combatant Workshop at the NSCW. Two new workshops also fell into line this year, the first being the Intermediate Actor Combatant Workshop, held this summer concurrent with the other NSCW workshops at UNLV. This workshop is designed to be a bridge between basic training (three weapons into an SPT), and the Advanced Actor Combatant Workshop. It concentrated on basics of the many other weapon styles in our repertoire, and was inaugurated this summer by Fight Masters Drew Fracher, David Boushey,and J. Allen Suddeth.
This summer was also the inaugural year of the highly acclaimed National Fight Director Training Program at the Celebration Barn Theater. It was recognized as the only other official SAFD training program in the country. This year digital video classes joined the already complex schedule headed by award-winning DGA filmmaker A. C. Weary. Dale Girard, J. Allen Suddeth, and k. Jenny Jones made up the faculty up in Maine.
Finally, this year we invested Brian Byrnes into the College of Fight Masters, and said farewell to founding member Fight Master Joseph Martinez, who stepped down to pursue other interests. He has now become a Fight Master Emeritus and will continue to share his talents with us through the years.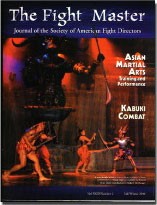 Fall/Winter 2000
In With the New . . .                   
2000 began the new millennium with the SAFD out in front on many levels. The Skills Proficiency Test (SPT) is being taught in more academic circles than ever before in our history. Many drama departments at the University and College level have committed themselves not only to following our guidelines, buying expensive (but safe) prop weapons and mats, and also to hiring our Certified Teachers. To that end, we honored those institutions who have continued to support the SPT over the years. Letters of commendation, and framed certificates were sent to over 25 Universities and Colleges around the country who have hosted the "fight test" since its' inception in 1979. The top institutions were: Columbia College (26), The University of Washington (18), The University of Illinois (17), The Cornish College of The Arts (15), The University of The Arts (14), Marymount Fordham London (14), The New York University (13),The University of Michigan (12), The University of Virginia (11), Temple University (10), and Webster College (10). See the complete list.                                    
SAFD officers made some significant internal changes. Treasurer Julia Rupkalvis worked to update and improve our financial situation. She and new Secretary Angela Bonacasa,, created a database of members, dates, tests, and other information that streamlined our lines of communication for years to come.
2001 saw Chuck Coyl inducted into the College of Fight Masters. We are getting closer than ever to making permanent changes in AEA contracts for actors, fight captains and fight directors all across the country. We are also deep in talks with SSD&C about wording on fights, safety, and fight directors for Broadway productions.
Our website is growing monthly, our publications The Fight Master and The Cutting Edge are flourishing, and there is more interest in the SAFD than ever. For the first time in history, we have 900 members.
UPDATED 2001
MORE TO COME SOON!