Welcome to the NEW Cutting Edge
Welcome to the newest version of The Cutting Edge!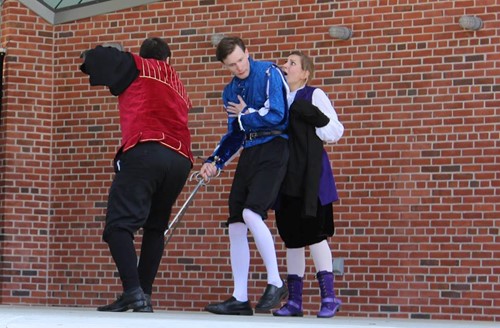 (Tampa Shakespeare Festival's production of Romeo and Juliet, Director and Photo By Megan Lamasney, Fight Director Dan Granke, Actors Dan Granke, Jamie Jones, and Molly Schoolmeester)
For those of you who are new to the society, and for those who have been long time fans of The Cutting Edge, a bit of what it is, where it has been, and where it is going.
When the Society was founded, it began to publish a bimonthly newsletter. That newsletter went to an online bimonthly format with the launch of our last website. Due to ongoing technical issues with our old website, The Cutting Edge has been on extended hiatus.
With the launch of the new website, we have had a chance to revive and renew The Cutting Edge. The new format, we hope, takes full advantage of the online format. Instead of set publication dates for issues, we have made a full commitment to a blog style of publishing. We also hope that you are able to read this easily on a mobile device. 
There are two things The Cutting Edge has been and we hope will continue to be. The first is a record of the society. Posts here will continue to document and provide a record of the activity of the society and its members. The second is serving as a voice for our membership.
With that in mind, we remain open to any and all submissions, and we will continue to report on regional workshops, as well as spotlighting the activities of our members in each region. Look forward to contact from your regional representatives asking you for updates.
Thank you for reading, add us to your RSS feed, and if there is something you do, something you have to say, or something you want to share with the broader stage combat community. Let us know: cuttingedge@safd.org
Dan Granke,
Editor in Chief