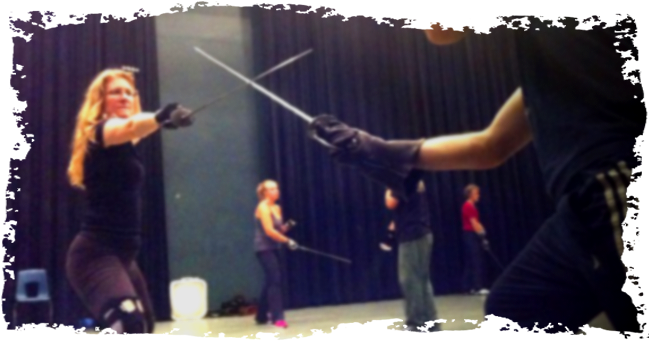 *Next TCW: Has not yet been announced*
SAFD National Stage Combat Workshops - Teacher Certification Workshop (TCW)
The SAFD Teacher Certification Workshop (TCW) is an intensive testing and assessment program toward certification as a teacher of stage combat by the SAFD.
In order for the SAFD to publicly endorse and certify an individual as a safe and effective teacher of stage combat, the workshop conducts a thorough examination of the candidate's teaching abilities and technical skills over the range of disciplines offered by the SAFD.
It is required that TCW candidates have thorough training in all eight stage combat disciplines tested by the SAFD.  Additionally, candidates must be able to perform the various techniques with precision, demonstrate a clear understanding of the logic of a given technique, its use, and most important . . . how to teach it. Experience in choreography and teaching are essential.
Individuals applying to the 2016 TCW must submit all application materials using the SAFD TCW Online Application.  
The screening of applicants is intended to select those who are truly ready for assessment at this level. Please give serious consideration as to whether you are prepared for the 2016 TCW.  As an applicant to the TCW, it is important that you have a clear understanding of what this program is, what is expected of you, and what you can expect from the program.
The 2016 TCW spans three weeks:
    Begins: Friday June 17, 2016
    Ends:   Friday July 8, 2016
If you are selected as 2016 TCW candidate, you will need to arrive the Winston-Salem NCSA campus by 4:00pm on June 16, 2016.  The workshop will officially begin that same evening.
Because of the nature and demands of the workshop, TCW candidates must be onsite for the entire three weeks, attend all scheduled classes, teaching sessions, presentations, etc.  Sundays are a day off.  If accepted into the 2016 TCW, make it a point to reserve those three weeks in your schedule.
Tuition for the 2016 TCW is $3500.00 (inclusive of membership until the next CT renewal cycle).  Housing costs, if you choose to stay on campus, will be announced soon.
Those who wish to apply must first complete the 2016 Teachers Certification Workshop Online Application and pay a $30.00 non-refundable application fee by credit card using our secured checkout (preferred), or you may opt to send check or money order for that amount. Please note that your application will not be considered until this fee has been received.
If accepted, a security deposit of $300.00 is required to be submitted to the SAFD no later than March 30, 2016 to reserve a spot in the 2016 TCW. This payment may be made through the SAFD website as early as March 1, 2016; or sent directly to: 
SAFD Business Manager
1350 East Flamingo Road #25
Las Vegas, NV  8911
The SAFD does not guarantee acceptance into the TCW for individuals submitting application materials. Individuals who fulfill all application requirements in a timely manner will be given full consideration. The SAFD does not discriminate on the basis of race, color, national origin, age, disability, sex, marital status, familial status, parental status, religion, sexual orientation, genetic information, or political beliefs. In addition, the TCW Admissions Review Board reserves the right to weigh physical space and pedagogical needs when determining acceptance.
If you have any questions regarding the 2016 TCW, please submit your questions to Christina Traister, NSCW Coordinator – email: nscwcoordinator@safd.org
2016 TCW Application Information:
Below are the 2016 TCW application requirements, guidelines, and forms to help prepare your application materials.  
Please read the following before you apply:
 
The online application is scheduled to open between December 15, 2015 – Jan. 1, 2016.
The closing date for all online applications will be Jan. 15, 2016.  
Once the online application is open for submissions, each applicant will have access to their application files so they are free to add, adjust, and amend their application before they submit.
If you intend to apply for the 2016 TCW, it is important you prepare all application materials prior to the opening date of the online application.  Once the online application is open for submissions, you will be able to upload all documents, letters, forms, etc.
Please double check that all your information is complete and that all files and appropriate materials are uploaded.  Each applicant is responsible for the content of their own application.  
If an applicant experiences any difficulties uploading information, please contact Zev Steinberg, SAFD IT Admin – itadmin@safd.org
No application materials will be accepted after January 15, 2016.
Beginning Jan. 16, 2016, the TCW Admissions Review Board will begin reviewing all applications.
The TCW Admissions Review Board includes the following SAFD individuals:  Secretary, Business Manager, CT Rep, FD Rep, FM Rep, TCW Coordinator, TCW Co-Coordinator.
Offers of acceptance into the 2016 TCW will be sent to applicants beginning March 1, 2016. The $300.00 deposit must be made to accept and reserve your spot and paid no later than March 30, 2016. Full tuition must be paid by June 1, 2016.
All applicants will be notified regarding official acceptance by March 31, 2016.
2016 TCW Application Requirements:
The 2016 TCW Online Application will become available between December 15-31, 2015. Below you will find all the documents required for the application so that you can prepare for your submission.
BEFORE YOU BEIGN:
In order to apply to the Teacher Certification Workshop, one must be a current SAFD member in good standing, and hold the rank of Advanced Actor/Combatant at the time of application, meeting and/or maintaining proficiency in all recognized movement disciplines offered by the SAFD as dictated by the Actor/Combatant Skills Proficiency Test. (SPT, see Section 2.02-2.03 of the SAFD P&P) The applicant must be current in all 8 weapons with a recommended pass in at least 4 of them.
To submit this material, please verify that all of your test history is showing on your profile. Once logged into the site you can view both your test history and your current membership status on the "Edit Profile" page listed under your username in the top right hand corner of the site.
If you are not current, please pay your dues to renew. If your test history is not complete, please contact the IT Admin right away so that we can start tracking it down. Please email the IT Admin directly at: itadmin@safd.org with the subject line "TCW Applicant Test History".
Updating your SPT and Payment records can and should be done well BEFORE you submit your application.
1. A Letter of Intent.
   
A formal letter defining the applicant's career objectives and goals, professional experience, leadership skills, and unique attributes that set them apart for consideration. 
It allows the applicant to demonstrate personality as well as communication skills.
A successful Letter of Intent will be informative, professional, and persuasive.
Always keep in mind the end goal of the letter is acceptance into the TCW.      

                

This document should be submitted as a PDF              
2. Statement of Stage Combat Teaching Philosophy as it relates to Actor Training.
The Statement is a one to two-page document that provides a clear, concise account of
    your teaching approach, methods, and expertise.  
 
A Teaching Philosophy Statement should answer four fundamental questions:     

     
a) Why do you teach stage combat? How does that relate to actor training?
b) What do you teach? How does that relate to actor training?
c) How do you teach?
d) How do you measure your effectiveness?              

         
This document should be submitted as a PDF
       
3. Submit THREE Letters of Recommendation from the following:
 
1- SAFD Certified Teacher or SAFD Fight Director

To be uploaded as part of your application packet in PDF format.

2- Past Employer or Professional Contact

To be uploaded as part of your application packet in PDF format.

3- SAFD Fight Master         

This letter

must be emailed as a pdf directly

from the FM to the TCW Coordinator and Co-Coordinator at BOTH of the following addresses:  bbyrnes123@yahoo.com  - AND -  markguinn@mac.com        

 

The FM letter of recommendation will not be solicited by the TCW Staff. The applicant must make the request of the FM, who in turn, submits their letter to the TCW Coordinator and Co-Coordinator.         

You will submit two letters via the online application – one from the SAFD Certified Teacher or SAFD Fight Director, and one from the Past Employer or Professional Contact.           

The letter from the SAFD Fight Master must be emailed directly from the FM to the TCW Coordinator and Co-Coordinator.     

Please Note:
It is ESSENTIAL that your letters of recommendation come from CT's, FD's, FM's, past employers and/or professional contacts who have seen you TEACH.           

It is not relevant how good of a person, an assistant, an actor, a fighter, or student the applicant may be.

Inclusion to the TCW is based on the applicant's ability to teach.  

Past employers and/or professional contacts who have seen the applicant teach something besides stage combat is acceptable.

IMPORTANT           

The applicant is responsible for acquiring these letters.
The applicant should confirm with recommending FM's that their letter of recommendation has been received by the TCW coordinators.                  
The TCW coordinators will not track them down in any way.  
It is also the applicant's responsibility to collect the letters of recommendation from the other parties for submission at the same time as the rest of the TCW application.
4. Current Curriculum Vitae
Which must include:   
Experience as a teacher rather than as an assistant. This doesn't need to be teaching stage combat.*
   
Experience choreographing fights.*
Used in academia, a curriculum vitae or CV is very similar to a resume but more comprehensive and often multiple pages.
In addition to tailoring your CV to the specific opportunity of inclusion into the TCW, here are a few general tips:  
Use 10 to 12 size font in a professional font style (except name which may be a larger font size).
Include your name and page number on each page starting with page 2.
Include job title, organization, location, date, and a description of the activities you performed and skills you developed in each of your experiences.
Be positive and honest about your experience, skills, and capabilities.
Proofread – your punctuation, grammar and syntax must be flawless.
Start each bullet point with an action verb.              


          Sections of a CV:       

Contact Information
          Name, address, phone, email
          May also include website and LinkedIn profile, if applicable       

Education
          List your most recent education first
          Institution, location, degree, graduation month and year, GPA
          Thesis/dissertation title and advisor if applicable

Experience
          Can be divided into several categories:
          Stage Combat Teaching Experience, Stage Combat Assistant Teaching Experience, Professional Theatre Experience, Other (non             stage combat) Teaching Experience, Volunteer Experience, Other Training Experience, etc.
          Include job title, organization, location, dates, description
          Description should be bulleted sentence fragments starting with a strong action verb
          Elaborate and be specific

Additional Possible Sections:
          Research Interests
          Publications/Abstracts
          Presentations
          Professional Associations/Affiliations
          Awards, Fellowships, Honors, Grants
          Languages (Include level or proficiency)
          Courses Taken: In school or at national/regional workshops
          Laboratory Skills
          Technical/Computer Skills
          Certifications
          Community/University Service
          Additional Information
          References: Include Name, title, address, email address, phone number

           
This document should be submitted as a PDF
               
5. Documentation showing training with a MINIMUM of two SAFD CT's, FD's, and/or FM's, and a MINIMUM of 40 hours in each SAFD stage combat discipline.
Please use the "attached" excel spreadsheet as a template to record this history.          
Submissions in another format will not be accepted.
You can use this document to enter your training history, save it, and then upload it as part of your online application.
6. Documentation of an undergraduate degree in performance studies or equivalent training. 
Notranscripts please. CV documentation of education is evidence and sufficient     

This document can be submitted as a PDF or JPEG
        
7. Documentation of current First Aid and CPR certification. 
Upload certificates from the American Red Cross, American Heart Association or other certifying bodies recognized by the SAFD Governing Body.  
Copies must be right side up when up opened, with the document clear and legible.    

            

This document can be submitted as a PDF or JPEG
    
8. Recent video footage showing examples of the applicant performing their own Unarmed and
Rapier & Dagger choreography.  
The purpose of the choreography is to demonstrate clear technique, including footwork, as laid out in SAFD set moves. This choreography is less about your ability to sell your fight, or be "interesting"- it IS about your fundamental ability to demonstrate proper technique. 
The space used for filming should be well lit, sufficiently large and free of obstacles. It may be indoor or outdoor so long as the performers may be clearly seen.  
Be certain you and your weapons can be distinctly visible.  For instance, a white top against daylight or a dark top against black curtains does not help you show your best work.  
Neither set nor props, other than Rapiers & Daggers, may be used.  We also recommend the choreography be suitable for the stage rather than film (fighting).  Sequences filmed in an indoor theatre or rehearsal space is best, though an outdoor theatre space may work as well.  
   
Create and submit two videos

1- Unarmed
2- Rapier & Dagger

These two videos should feature required techniques from the two disciplines (Unarmed and Rapier & Dagger respectively), include as many moves as the applicant feels necessary, but be a minimum of at least 16 moves.
Each video should be between 40-60 seconds.
Each video must be one continuous shot (panning and following if needed) maintaining the performers within the full frame.  No cutting-and-editing of sequences.
To submit your two videos, please upload them to YouTube as UNLISTED (not private, and not public) and be prepared to copy and paste the links into your application.
Please record and upload your videos in HD or high resolution.
You will be asked to provide links to your two videos in the online application.
9. $30.00 non-refundable application fee. (payable online)
Strongly suggested training and experience (

but not required):
1. Experience in researching the real life application and evolution of the 8 weapon disciplines from a historical perspective. This includes both civilian and military usage as well as their geographic significance.
2. Experience performing fights.
3. Actor Training.
4. Training in other movement disciplines such as martial arts, mask work, commedia del arte, clown, Suzuki, Pilates, Alexander, Feldenkrais, dance, period movement and manners, etc.
5. Demonstration of familiarity with principal works of western dramatic literature, specifically those that require the use of stage combat.
Application Deadline:
All applications must be submitted no later than January 15, 2016.
Acceptance Notification:
All applicants will be notified regarding acceptance by March 31, 2016.
* The SAFD does not encourage individuals to teach any discipline or choreograph fights that they are not qualified and confident to teach.