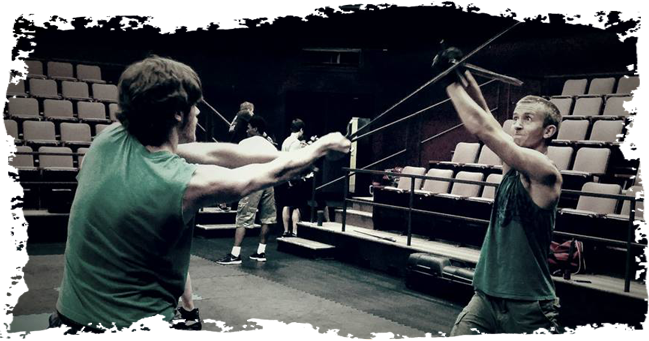 Introduction to Stage Combat Workshop
Introduction to Stage Combat | Actor Combatant Skills Proficiency | Advanced Actor Combatant Skills Proficiency
Introduction to Stage Combat is a fast-paced, two-week intensive program that focuses on familiarizing students with the essential requirements for performing safe, effective stage combat. Students will learn to perform fundamental techniques in the eight basic "fight" disciplines recognized by the Society of American Fight Directors. Although these classes cover SAFD basic skills, and renewal testing is available for those who qualify, Introduction to Stage Combat does not offer SAFD skills testing.
The emphasis is on the development of technique and the process of the work rather than the performance. Focusing on accuracy, safety, and the fundamental techniques needed to protect the actor and their instrument when engaged in dramatic physical encounters, the summer intensive provides opportunities to explore and develop these important skills. Students will be in class at least six hours a day, five days a week.
Each day typically begins with an appropriate physical warm-up, followed by classes in two disciplines in the morning and two further disciplines each afternoon. Related films and additional workshops by guest artists are a unique feature of this program. All of this requires a considerable amount of discipline, commitment, flexibility and stamina from all participants. Based on application materials, students will be placed into appropriate class groupings that will offer their best potential of growth and development. All High School applicants must be over 15 and have completed 9th grade. Swords, daggers and all other required theatrical weapons will be provided, in class, for each student.
Tuition and Fees
Introduction to Stage Combat

| | |
| --- | --- |
| Tuition |   |
| Payment due at Registration | $300 |
| Payment total due by July 1st | $1500 |
|   |   |
| Additions of Housing and Meals |   |
| Housing Cost | $490 |
| Meal Plan | $300 |
Tuition scholarships available for all SAFD

members

!
Important note: All high school students are required to live on campus, unless they live with parents or legal guardians within commuting distance of the school. High school students are housed in residence halls in one area of campus; while high school graduates and college students live in another area of campus. Men and women are housed separately in all cases. All students living on campus are required to be on the meal plan; there are no exceptions. If you have questions regarding room and board, please contact the NSCW Coordinator
Admission Requirements
Minimum age is 15 (must have completed 9th grade).
Previous drama, acting and/or stage combat experience is not essential.

High School Student:

Two (2) letters of recommendation; one from a dramatic arts teacher and one from an academic teacher or guidance counselor indicating the student's maturity level.

College Student /Professional:

One (1) letter of recommendation from either a dramatic arts teacher or theatre professional that supports the student's desire and ability to pursue training in stage combat.
A one-page statement of why you wish to attend the Summer Session in Stage Combat.
To Apply:
Potential students can register here
If you have questions about the application and admissions process, please contact the

 

NSCW Coordinator
For Additional Information: